With simple, clear controls in the parent dashboard, you can rest comfortably knowing your child is only accessing the content you choose in LightHouse Reader. You, personally, select the library your child can access, choosing either bundles or individual books from among thousands of age appropriate titles, including faith-based content. Don't approve of a particular book in a bundle? You can filter books individually, choosing to block them altogether or hold them until your child is older.
In addition to choosing books, parents have complete control over options such as Book Club and Clubhouse. You determine which children your child may chat with, from siblings only, to trusted friends, to others in their grade, to a wider group. And LightHouse Reader gives you peace of mind with the ability to view any chat at any time and remove your child from the chat if you wish.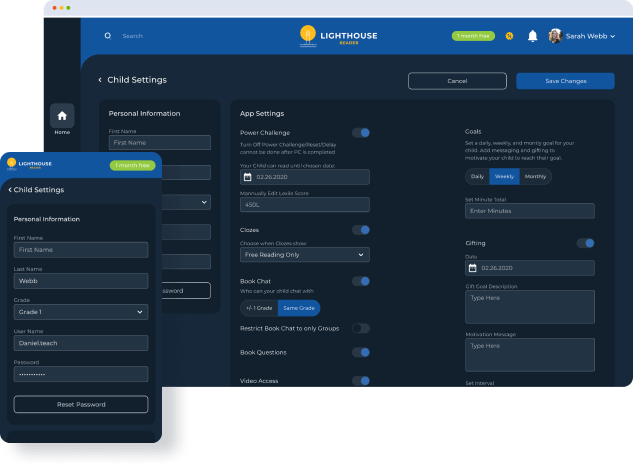 Select whether or not you wish to allow your child to watch high-quality, educational videos as part of their LightHouse Reader experience. In the parental controls, you decide if you wish to allow relevant, age appropriate videos to supplement the books your child is reading, and you choose how many minutes your child must read before they are offered a video.
LightHouse Reader empowers parents to easily take responsibility for their child's digital domain. The parental controls allow you to stay involved in your child's reading progress and activities, set appropriate boundaries for content and interaction, and feel comfortable knowing that the platform is a safe space for your child.