One of LightHouse Homeschool Reader's most exciting and dynamic features is Author a Book With this feature, your child can stretch their imagination and their reading and writing skills by creating their own book and publishing it for other children to read.
When your child signs into Author a Book, they first create their own author biography. They can choose a pen name and upload an avatar, which can be a picture of themselves or something else. For privacy purposes, all of this information is reviewable and subject to a parent's approval. Next, your child fills in basic information about their book, such as choosing a title, selecting a genre, writing a brief book summary, and uploading a cover image. The feature guides them through planning and creating all the various aspects of a real book.
As they work through adding chapters to their book, your child can make private notes on their work in progress, add a glossary and sources page, add images, and more. The Author a Book feature provides all the tools necessary for your child to really take ownership over the writing process from a simple narrative essay to a lengthy and complex research piece. They can save their work as a draft to continue working on it later, or submit their creation for a parent's review and publication.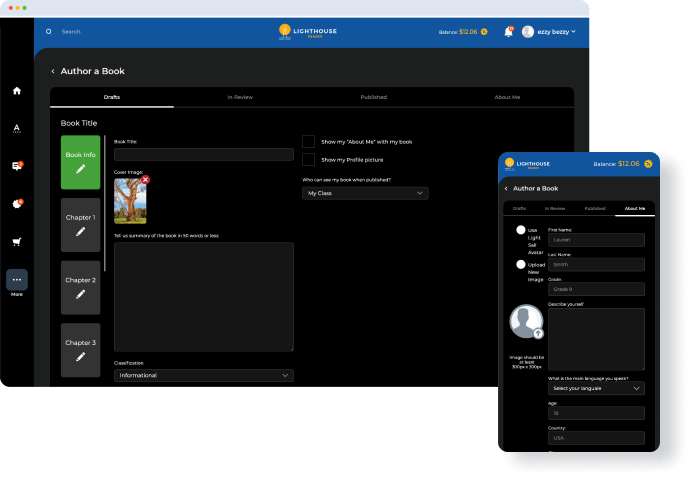 Once a child finishes and submits their book, you, the parent, can:
-Review and edit their work directly,
-Comment to provide encouragement and/or point out areas that need to be improved,
-Add another reviewer, such as another parent, or assign it to another student to review,
-Grade the book, either using a pre-set grading rubric or by creating one of your own,
-Add clozes (fill-in-the-blanks) for comprehension,
-Decide if the book should be published and to what audience (The family? The child's grade? The world?),
-Decide how much biographical information about the child should be displayed,
-and more, all through the parent portal.
If you publish a book to the LightHouse platform at large, it is available for others around the world, who are also on the platform, to read and enjoy. You can even choose whether or not to allow peer-review of the book. This is an amazing way for your child to connect with other children on the same literacy path and show off their writing skills.
But the most exciting choice to make with Author a Book is how you will use it in your homeschool curriculum! This amazingly versatile tool can be used for everything from a fun, educational side project, to creative writing assignments, to teaching grammar and composition, to research papers.