LightHouse Reader integrates vocabulary instruction in multiple ways, giving children the opportunity to familiarize themselves with new words in a variety of contexts. This increases their comprehension as they encounter new words multiple times. Additionally, the words chosen for your child are completely customized to their individual ability and automatically adjust as they learn.
One way LightHouse Reader builds vocabulary is through the cloze (fill-in-the-blanks) assessments that children answer throughout the books they read. As a child reads a book, they encounter a cloze, or blank, and they must choose the appropriate word to fill that space. This takes the child from being a passive consumer of the content to an active participant, absorbing and processing information. It requires them to think critically about the text, make inferences, and draw on prior knowledge. And as they make choices and fill in the blanks, they learn new words and word meanings in a very organic way.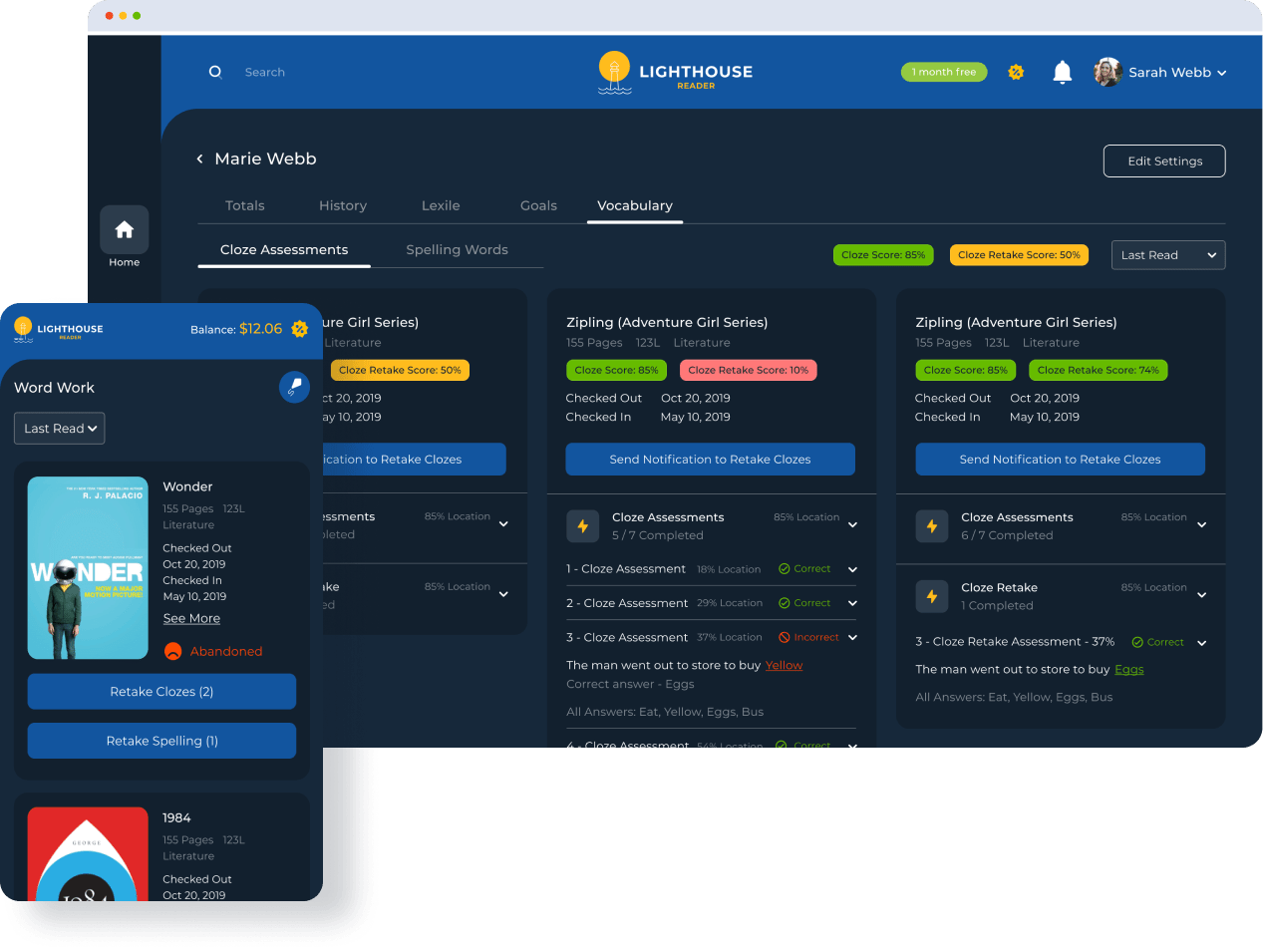 The second method LightHouse Reader uses to broaden a child's vocabulary is the Spelling Bee feature. When a child participates in a Spelling Bee, they aren't just learning to spell. They hear the proper pronunciation of a word, its part of speech, synonyms for the word, and its usage in a sentence.
In the parent dashboard, detailed data on your child's scores let you know exactly where they are excelling and where they would benefit from further practice. And with a click of a button, a parent can send a notification asking the child to retake an assessment.
Typical vocabulary lessons that only offer a word and its definition do not provide the context and practical application that LightHouse Reader does. By combining cloze assessments and Spelling Bees with detailed analytics and the power for parents to assign targeted practice, a child gains multiple exposures to new words in meaningful context. When reading in LightHouse Reader, your child's vocabulary grows as a natural result reading progress.